Records show that our first service was held in December 1922 at Bowhill Rd.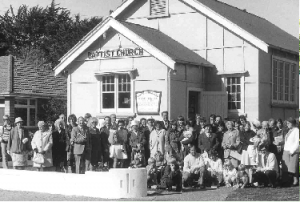 Right from the start PBCC sought to look outwards and was active in planting churches under the Baptist umbrella. Three congregations were directly formed out of the 'North East Baptist Congregations' and in 1986 the three congregations became autonomous.
The present church building is a retired supermarket and marked a shift from the Parklands Church site at 46 Queenspark Drive. In 1998 we sold the old building to the council and we refurbished the new building found at 180 Queenspark Drive.
Roger Spicer led the church from 1983 until June 2005 and Chris Ponniah took over in 2006 until 2015. In 2016 we called Colin Wood as Lead Pastor.
The multiple earthquakes and aftershocks that rocked Christchurch did damage our building, but also provided a wonderful opportunity for us to serve our community. Our carpark, building facilities and people provided meals, labour and showers to many in the greater Parklands area.
Our building was damaged in the earthquakes, but has been extensively renovated to how it is now.
For us church is not a building, but a community of faith and action. We'd love you to check us out.
If you would like to know more about our history, feel free to download the 100 Year Centenary booklet. PBCC 100yr History 1922-2022 (1)